Nashville, TN U.S.A. – Promising songwriter Tommy Rice celebrates the release of his new single "The Greatest Love Of Them All". The warm acoustics and steady melody cradle the nostalgic sentiment of this much anticipated follow up single for "Eternal Promise Of love" and "Miss Her More Today Than Yesterday". 2021 NMA Nominee for Crossover Artist/Band of the Year has kept Rice remarkably busy to say the least.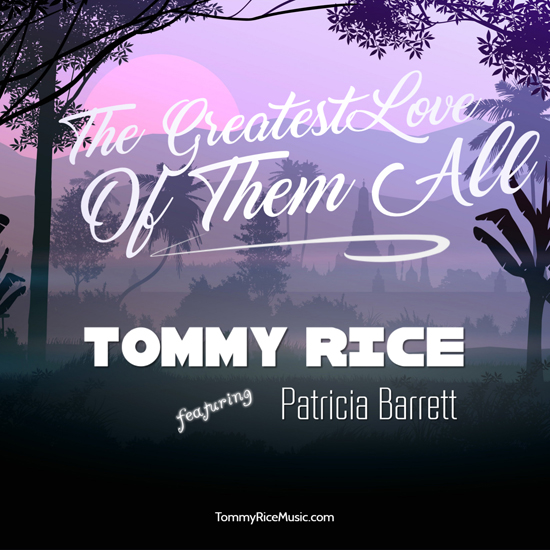 Songs like "The Greatest Love Of Them All" dive into the acceptance of being in a relationship based on true love for one another which addresses the post-relationship struggles that make up the human experience when one is lost. An emotional song that highlights the depth of Rice's writings. It took some time before Rice was able to embrace the emotions of the song fully to record it, but once he did, it came to symbolize the connection of true love and music. His newest creation will melt your heart with words of love most have never heard. "The Greatest Love Of Them All" is a tender track Rice wrote about the moment he met his wife Deborah, and the undeniable love she had for him and everyone around her up onto her passing. The track is a nostalgic song and features singer Patricia Barrett.
"This song was my life in lyrics. My wife told me many times I was the greatest love of them all and I felt the same about her.  A life of real love we lived every day." – Tommy Rice

Now, Rice is excited to continue to connect with his fans through his album "Songs From The Heart Vol. 1". The album is a musical diary of Rice's own personal journey over the past two years documenting feelings of hopelessness through the loss of his wife Deborah, true love to a transition to empowerment.
Complimenting the new release, Rice has announced the debut of the music video and lyric video for the new single "The Greatest Love Of Them All".
About Tommy rice
Tommy discovered his passion as a songwriter and author after losing his wife, Deborah, to an aggressive form of brain cancer.  Throughout her battle, they kept God at the forefront, as they always did together.  3 years later, God called her home.   He joined a grief recovery class where he was asked to write a short story of their fight with cancer. His short story became his first song. He compliments his music and his knowledge by writing a book about the struggles of love and life all while all while continuing his path to mend a broken heart. With accolades as a 2021 NMA nominee for Crossover Artist of the Year, his first album will be released Summer 2021.