Los Angeles based pop band ReLoVe (AWAL Recordings) releases their latest single and video "Looking For A Reason" while embarking on a National U.S. radio campaign which spans to Top40 and Hot AC radio stations.
Debuting on the national radio AC charts, the single is quickly ranking on the Up & Coming at Top40 radio.  The accompanying video available now to stream has already reached 42K views on YouTube which features pure upbeat positivity with creative sketch animation that shows off the band's most infectious songwriting skills.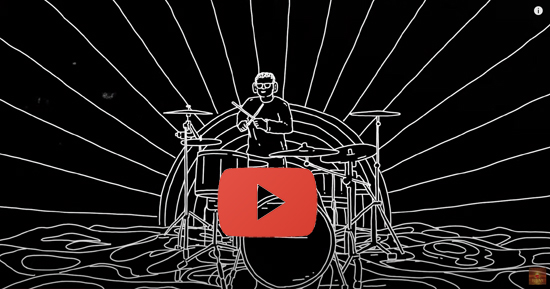 ReLove's new 7-song collection digs much deeper both musically and lyrically than their previous smiley pop-centered 'Music on a Mission!' EP released in 2019 on AWAL.  Always prompting the questions that need to be asked, Glenn Jost's vocals and lyrics keep challenging the complex socio-spiritual reality we all share.
"This is the very first song that I wrote living in NYC with a bass guitar, drum machine, and a pencil.  The demo lived on a cassette for decades until re-recorded in 2021 with the lyrics, melody, and arrangement still the same."  Jost recalls
Jost wrote the songs and organically tracked drums and acoustic guitars with bandmate/producer Victor Bender. Hussain Jiffry (Herb Alpert) laid down his infamous bass guitar grooves, while multi-instrumentalist Bender produced and performed keyboards and electric guitars. Newly added violin virtuoso and opera singer Leah Zeger (Hans Zimmer) elevates this eclectic music to a foot-stomping, yet sophisticated place, merging all the elements of country funk, reggae soul, and bubblegum retro-pop effortlessly together as one.
"I've always been 'Looking for a Reason', for purpose, for meaning of life, which I think all humans can relate to in their own way." Jost says.
Radio may download "Looking For A Reason" 
HERE
About ReLove:
"ReLoVe is not just a band but a way of life. With a roster of rotating artists in their ranks, they aim to not only entertain through their gloriously summery retro-pop and reggae soul gems, but also to give back to the poorest sections of the communities where they perform.  Led by their ebullient drummer and vocalist Glenn Jost, ReLoVe combines a 60's bubblegum soul-pop joy, with a heart-felt desire to make a positive difference to their audience's lives."

For Servicing, Interviews and Liners contact:
Loggins Promotion
Tel: 310-325-2800
Contact LogginsPromotion.com